With more than 35 years of orthodontic experience, Dr. Ronald Clark and his daughter Dr. Allison "Ally" Clark, will help you achieve your best smile!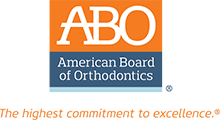 Working side by side, our orthodontists will create a treatment plan that's tailored to you. Your plan will address your clinical situation, as well as your aesthetic concerns, and emphasize efficiency, comfort, and the strongest smile results. We are also proud to say that all three of our doctors are Board-Certified Orthodontists and Diplomates of the American Board of Orthodontics (ABO).
Along with our wonderful team members, we've created a friendly and welcoming practice that patients and their families love to visit. We even have old-fashioned pinball machines and video games for patients, siblings, and even parents in our reception area!
As a family-oriented practice, we care for our patients as we would members of our own family: with respect, compassion, and professionalism. We want you to finish treatment with a smile you love, and to have enjoyed every step of the orthodontic journey.
The two Drs. Clark, and our team promise to:
Deliver quality, patient-focused care that creates exceptional smiles
Provide treatment in a welcoming, supportive environment, where you feel at home from the minute you step through our doors
Establish open communication and build trust, to ensure you're happy with all facets of your treatment
Be efficient with your time, respecting that you have a busy life and don't want to be kept waiting. We'll try to schedule visits at times that work for you and manage our schedule so you're seen on time and never feel rushed.
Be responsible with your money, recommending only treatments that are appropriate for your needs. We'll also work with you to maximize your insurance benefits and find financial arrangements that work with your budget.
Be attentive to your unique needs and expectations, and responsive to your concerns.
Our family looks forward to being your orthodontic providers, and helping you develop the healthy, beautiful smile that will transform your life!
Please contact our Haddonfield, Woodbury Heights, or Voorhees Township, NJ orthodontic office to schedule a complimentary consultation. That call is the first step to a lifetime of happy smiles. Call today!